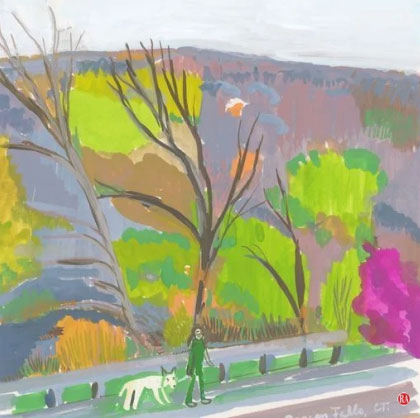 For the last 20 years, Bethany-based artist Amy Jean Porter has drawn more than 1,200 species of animals – including birds misquoting hip-hop lyrics or speaking a language foreign to their natural habitat.
The Jennifer Terzian Gallery in Litchfield is hosting Porter's solo exhibition in Connecticut, "Still Life," through Sunday.
The showing, which features Porter's trademark bright, bold colors, includes more than 50 drawings she has created in the past six years. These are animals and objects most of us know and rarely scrutinize – a squirrel perking up with his prize, a crow masterfully surveying its unlikely, pastel-like surroundings, a bunch of bananas freckled with decay.
Porter's four drawings of bananas are color studies found on the kitchen counter. They feature the vibrant yellows of fresh bananas to the deep black-greens of rotten bananas and an array of browns in between. The bananas are a memento mori in fruit, reminding us of the ephemeral nature of life.