To hum is to sing with closed lips, to create vibrations, whether or not you know the words. 
My studio practice reflects principles modeled to me as a person who came of age in the rust belt, where labor is synonymous with repetition. Through rhythm and routine, I collapse inward, where I find freedom to be boundless. In life, and in my work, I create parameters in order to thrive. As a mother to three young children, I've learned this approach has practical implications, too. I take great solace in how my dual roles as artist and mother are not contentious, but actually, symbiotic. To quote one of my favorite artists, Michelle Grabner, "Chaos is rigidly structured in this chapter."
In addition to traditional painting materials, I also utilize unconventional items informed by domesticity and care giving. Items such as dryer lint, woven hot pads, tablecloths, towels and bleach have all made appearances. Out of a heavy sense of responsibility and gratitude, there is urgency to honor the women from which I came, as the life of an artist-mother was not afforded to them. I often work with hand-me-down linens from family and friends and I frequent estate sales and thrift stores for materials. By honoring women's work of generations past, while also considering my own legacy, I feel present and alive.
Though not always noticeable at first glance, my work often contains text. Words and phrases act like sentences in my life's story. Letters are sewn and arranged in a manner that suits composition and scale, allowing the structure of the painting to do the talking. Simple shapes like circles, triangles and squares complicate themselves while remaining knowable. Decisions are made and revised, paint is applied on the front and back, moves are bold and timid, poetic and blunt, chaos ensues and resolves, all within the boundaries of the picture plane. I think about things like love, comedy, labor, vulnerability, humility, tenderness, feminism, touch, sexuality and domesticity as much as I do about shape, color and texture.
The works in Hum are a sampling of a steady and inquisitive practice.
Allison Reimus's paintings explore her relationship with motherhood, femininity and domesticity through abstraction. Her work has been featured in numerous exhibitions in the U.S. and abroad. Recent solo and two-person exhibitions include Left Field Gallery (Los Osos, CA), Tiger Strikes Asteroid (Chicago, IL), Knox College (Galesburg, IL), and The Mission (Chicago, IL). Recent group exhibitions include Essex Flowers (NY, NY), Unit London, (London, UK), Grove Collective, (London, UK), Massey Klein (NY, NY), Kirk Hopper Fine Art (Dallas, TX), No Place Gallery (Columbus, OH) and Left Field (Los Osos, CA). Her work has been included in ArtMaze Magazine, Maake Magazine and New American Paintings (#88, #113, #125), where she was highlighted as both an "Editor's Selection" and a "Noteworthy Artist". Reviews include The Boston Globe, The Washington Post and NPR. Reimus lives with her husband and three kids in New Jersey by way of Brooklyn, Chicago, Washington, D.C., and Michigan. She earned her BFA from Michigan State University in 2005 and her MFA from American University in 2009.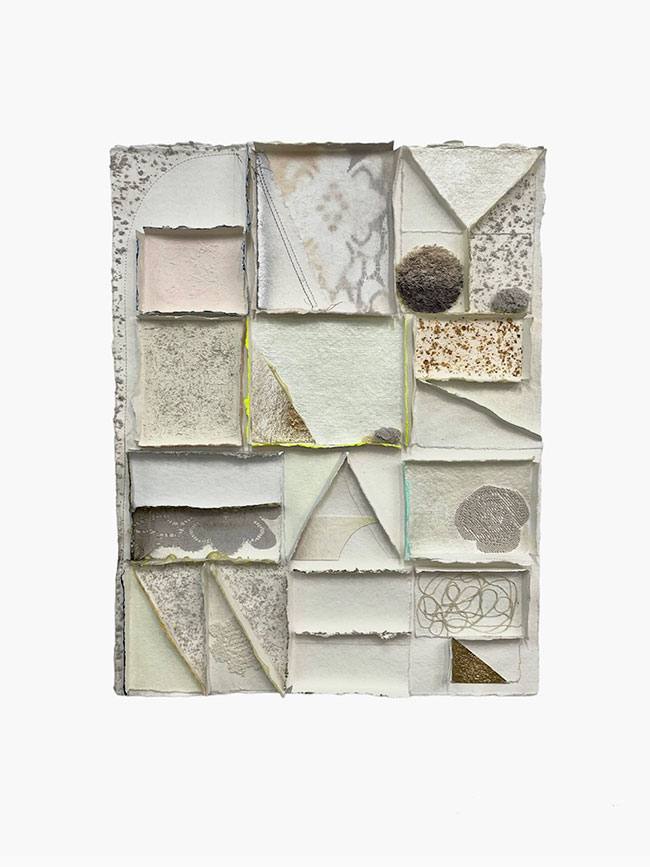 Do You Read Me? 2023 acrylic, o oil, thread, textiles, spray paint, pumice on torn, folded paper 18.5 x 14.5 in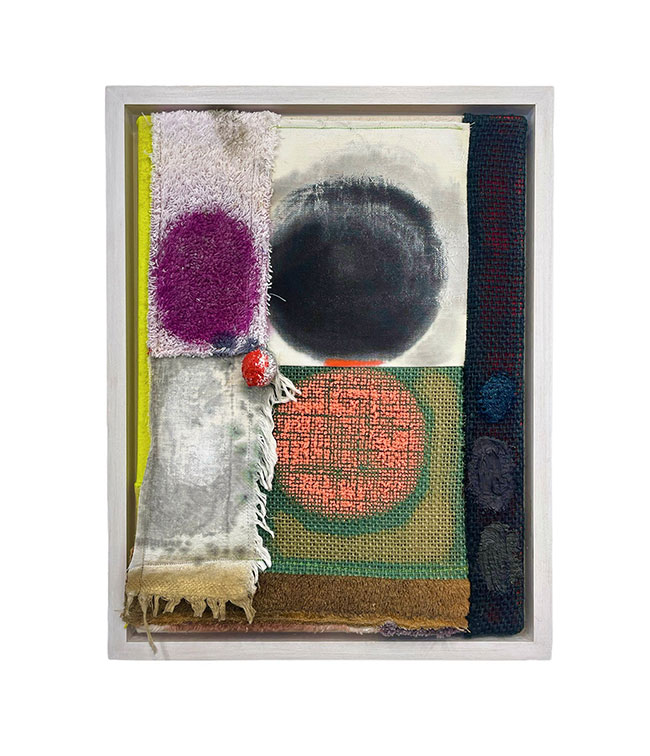 Untitled (Flower with Red Bead), 2022 oil on sen towel, dinner napkin, burlap, over painted stretcher, painted frame 9 x 12 in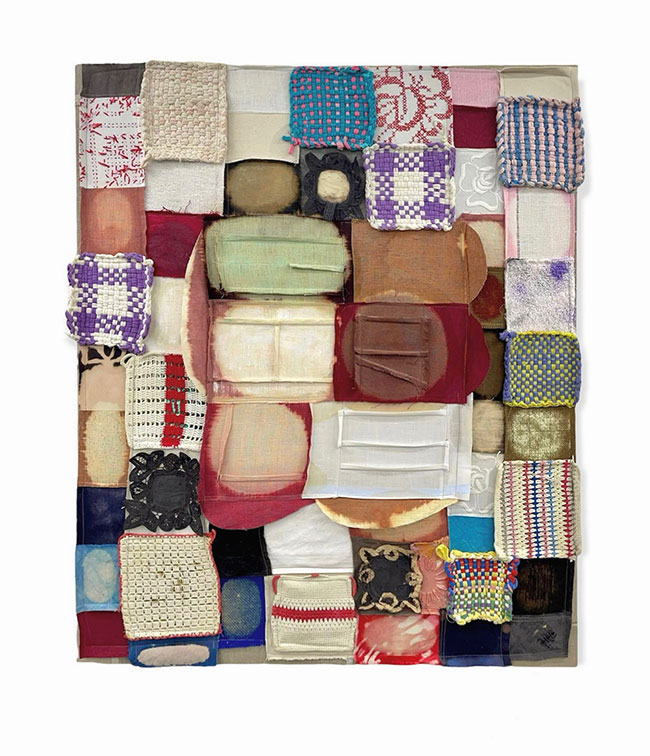 Running Bond Girls, 2022 bleach, oil, flashe on dyed, sewn linen, canvas, hot pads, various household textiles 30 x 36 in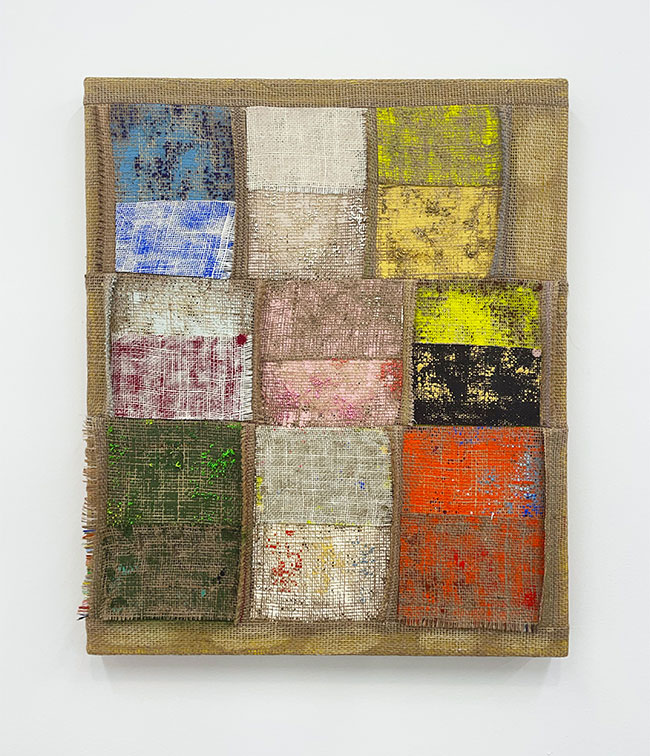 Nine H's in a Rhythm You Can Understand, 2021 oil, flashe, adhesive, bleach on sewn and collages burlap, over painted support 24 x 20 in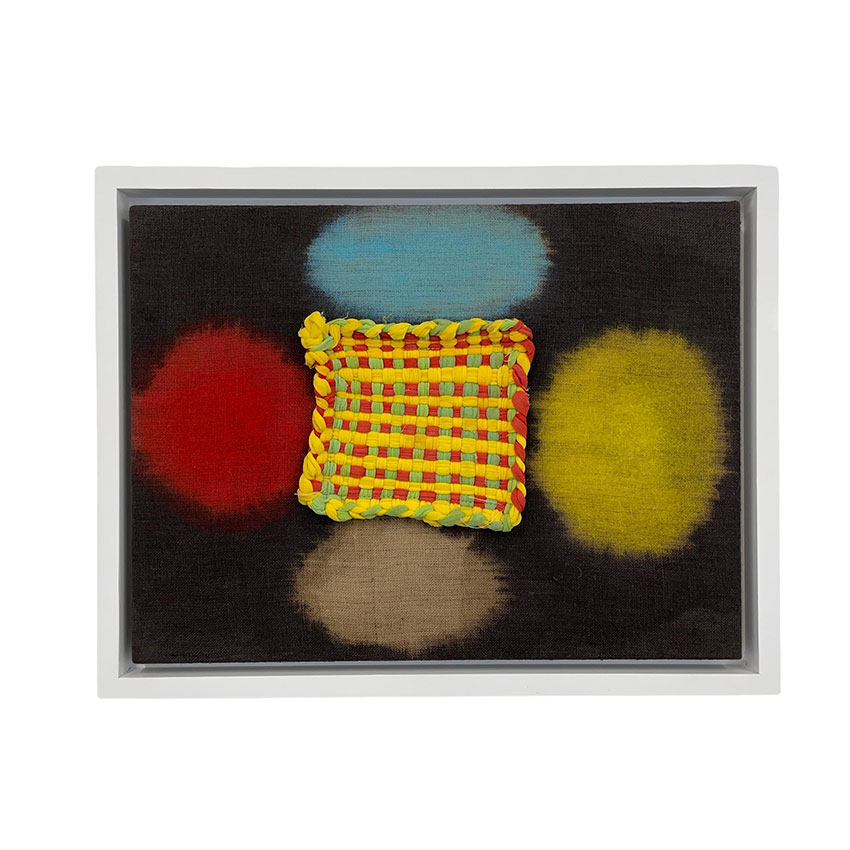 Untitled (Hot Pad Flower), 2022 bleach and oil on dyed linen, with woven nylon hotpad 9 x 12 in
Do You Feel Me? 2023 acrylic, oil, thread, textiles, spray paint, glitter pumice on torn, folded paper 18.5 x 14.5 in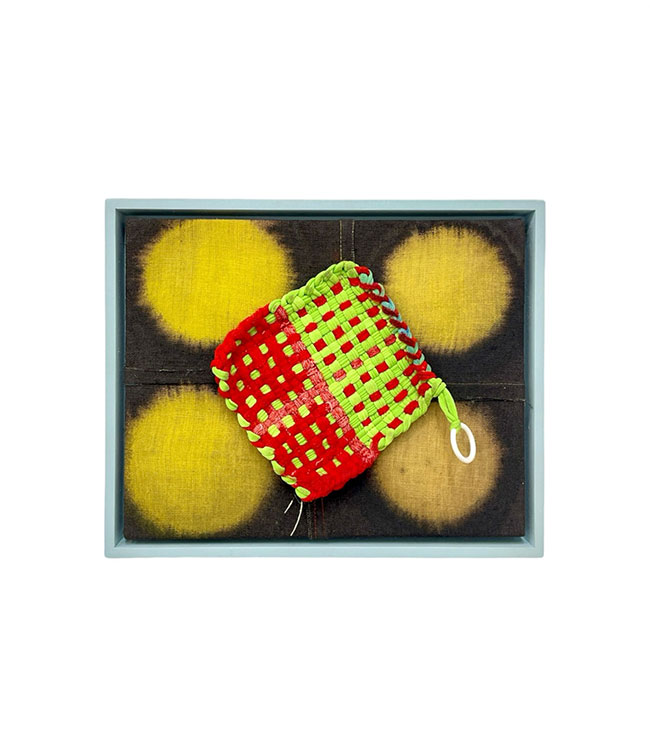 Untitled (Hot Pad Flower), 2022 oil, bleach, woven nylon hot pad on dyed, sewn linen with painted frame 8 x 10 in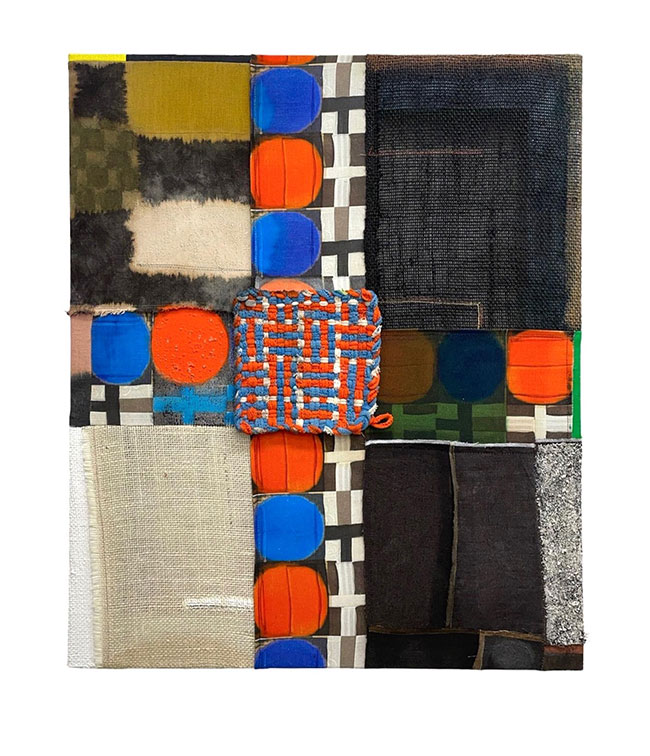 St. Louis, 2022 oil, pumice, bleach, woven hot pad on dyed, printed, sewn linen and burlap, over painted stretcher 24 x 20 in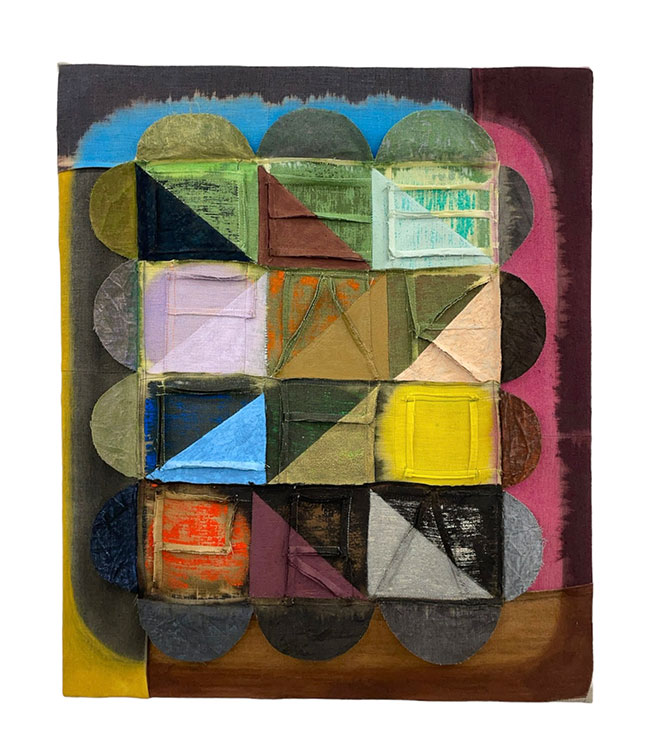 Deepak Chopra, 2023 oil, bleach, dryer lint, on dyed, sewn linen 24 x 20 in