Still Life
October 29 – December 3
Still Life is Amy Jean Porter's first solo exhibition in Connecticut and features more than fifty drawings from the last six years. The drawings tell a story of daily life in small moments and slow growth. Some are carefully rendered studies in gouache, jewel-like and precise: forget-me-nots and buttercups, a winter bouquet and found feather, three versions of the North Star made in one night. Porter's four drawings of bananas are color studies found on the kitchen counter. They feature the vibrant yellows of fresh bananas to the deep black-greens of rotten bananas and an array of browns in between. The bananas are a memento mori in fruit, reminding us of the ephemeral nature of life.
In the back room, Porter presents a series of colored pencil drawings that she made of houseplants and cut flower bouquets, including a Christmas tree, in her home. These moments show the bits of wilderness we bring indoors, and the thin window seam between domestic and wild. Sometimes she shows the trees and landscape through the windows, and sometimes the outside world is a blank space, reflecting our gaze back in.
For her third series of drawings, Porter takes a loose approach in gouache to portray animals and outdoor scenes she has encountered. Begun during the pandemic, these are a celebration of the small interactions we have with common animals that live around us, including an appreciation of rodents, pigeons, deer, and songbirds. These drawings are paired with her found poems of patterns made in spring streams and ponds. The drawing-poems suggest that nature is a source to be read; its patterns are a language to be learned.
Taken together, Porter's drawings are at turns delicate, colorful, humorous, wistful, bold, and always well observed. They encourage us to look closer at the world around us, and to appreciate and care for the natural world under our feet.
Amy Jean Porter is an artist and naturalist based in Connecticut. Over the last twenty years, she's drawn more than 1,200 species of animals, from hundreds of birds misquoting hip-hop lyrics to the birds of North Africa speaking French and English, to the documentation of hedgehogs in unexpected circumstances. These large series of small drawings are a natural history experiment and homage to the life around us. They consider the ways in which language and architecture bridge human culture and the natural world. Still Life is a more personal project over the last six years, documenting the ways in which nature and its patterns influence and intercept daily life.
Porter's drawings and installations have been shown in solo shows in New York, Los Angeles, Chicago, and Paris, and featured in publications such as Cabinet, jubilat, Lucky Peach, McSweeney's, The Awl, and Topic. She is the illustrator of the popular natural-history books Fungipedia, Florapedia, and Insectpedia (all Princeton University Press). Her newsletter Wild Life considers daily encounters with wildlife and explores what it means to be an active observer of the natural world.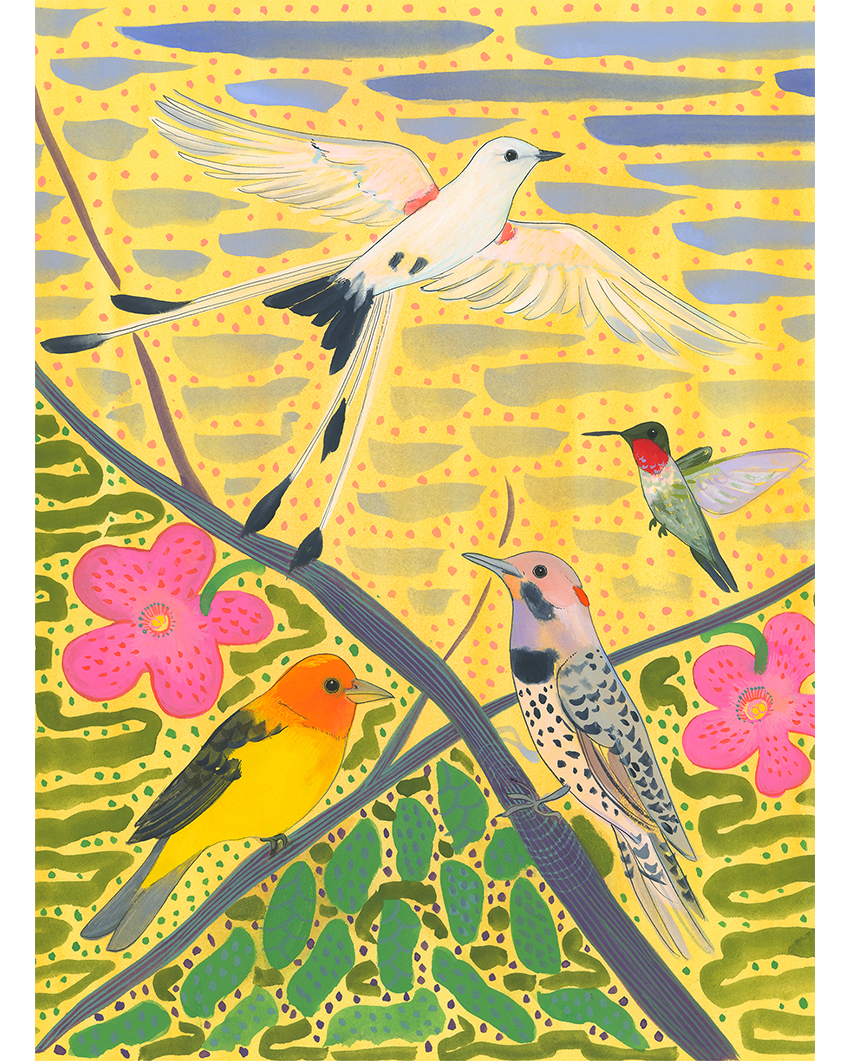 Four Birds, 2021
Gouache on Arches paper
17 x 14 in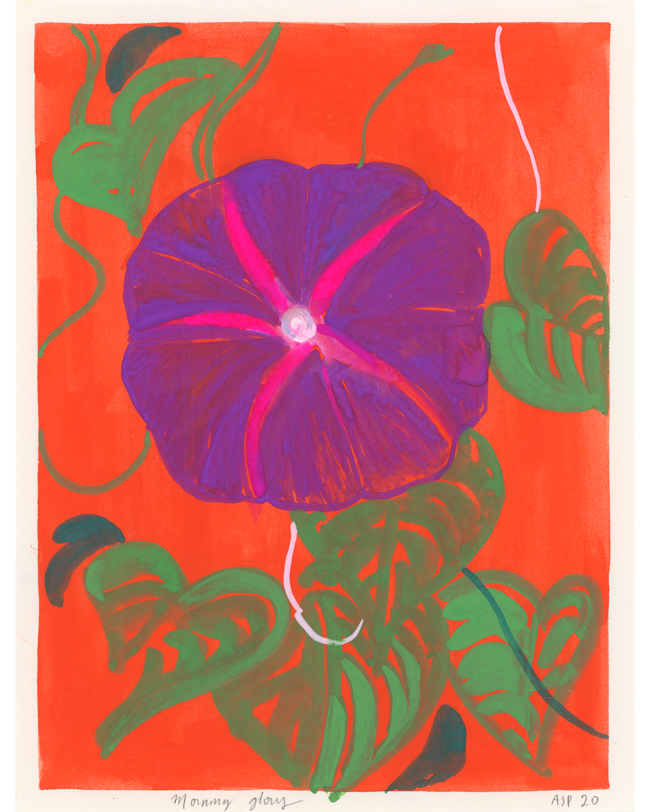 Morning Glory, 2021 Gouache on Arches paper 8 x 6 in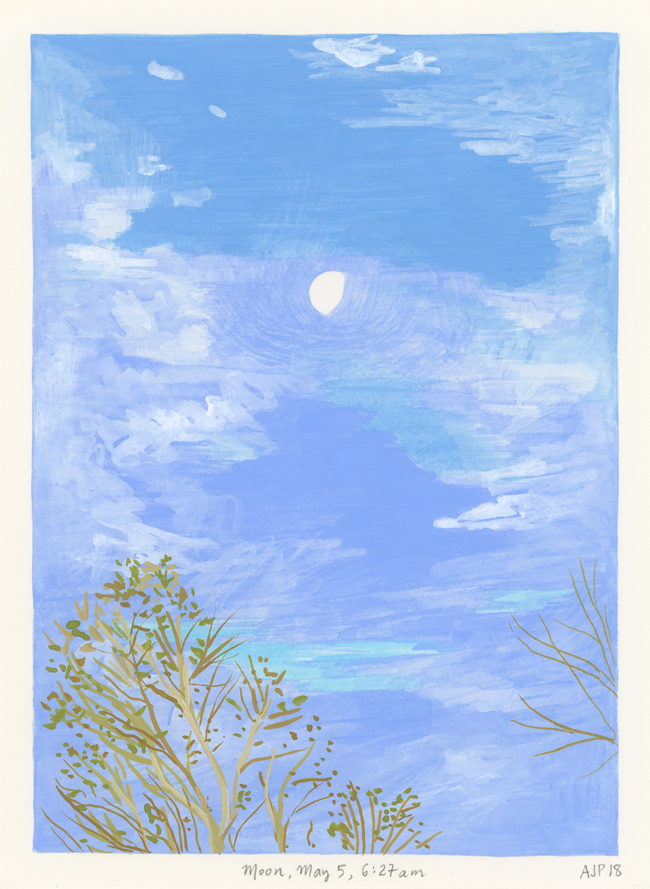 Moon May, 5, 6:27am, 2018 Gouache on Arches paper 8 x 6 in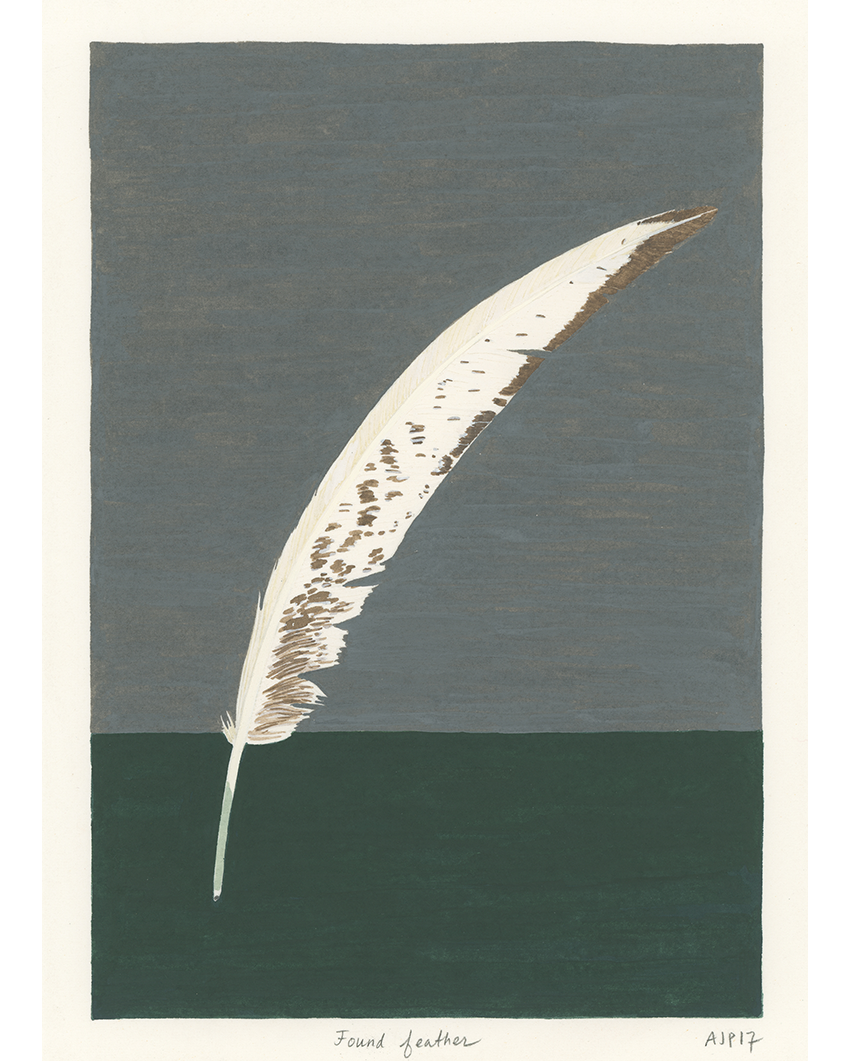 Found Feather, 2017 Gouache  on Arches paper  10 x 7 in
Vibermum, 2016 Gouache on Arches paper  7 x 5 in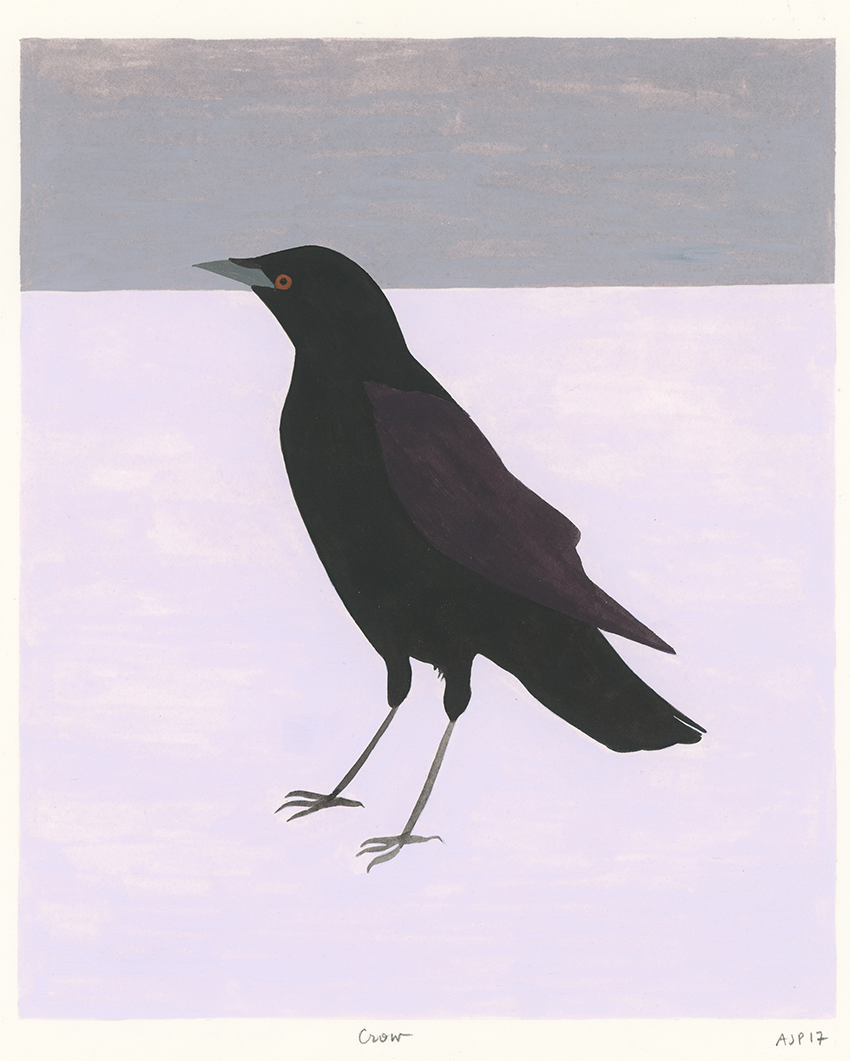 Crow, 2017 Gouache on Arches paper 11 x 10 in
Pluto, 2017 Gouache on Arches paper 10 x 10 in 
New Bananas, 2016 Gouache on Arches paper 15 x 19 in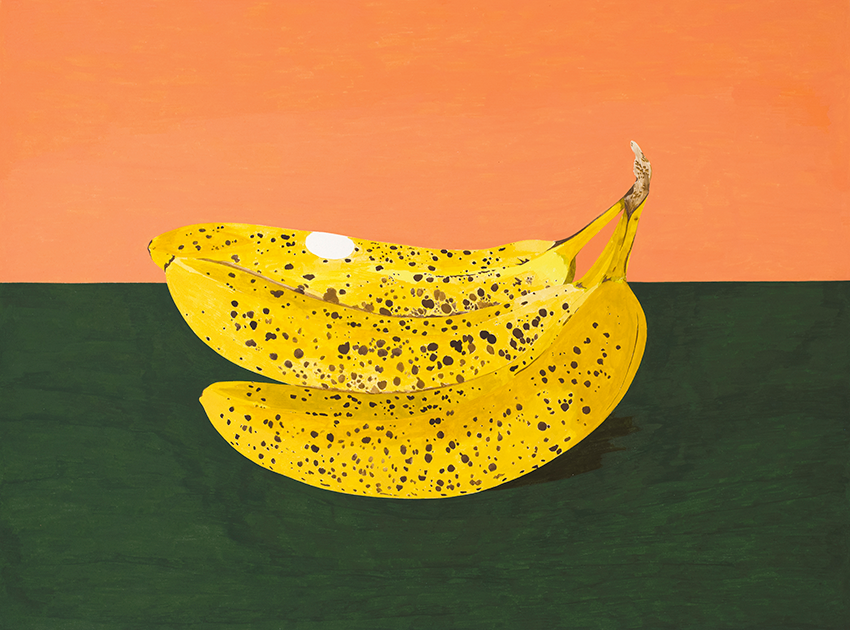 Spotted Bananas, 2022 Gouache on Arches paper 15 x 19 in
Cornflowers by the side of the road, June 27, 2018 ink and pencil on Arches paper 8 1/2 x 5 in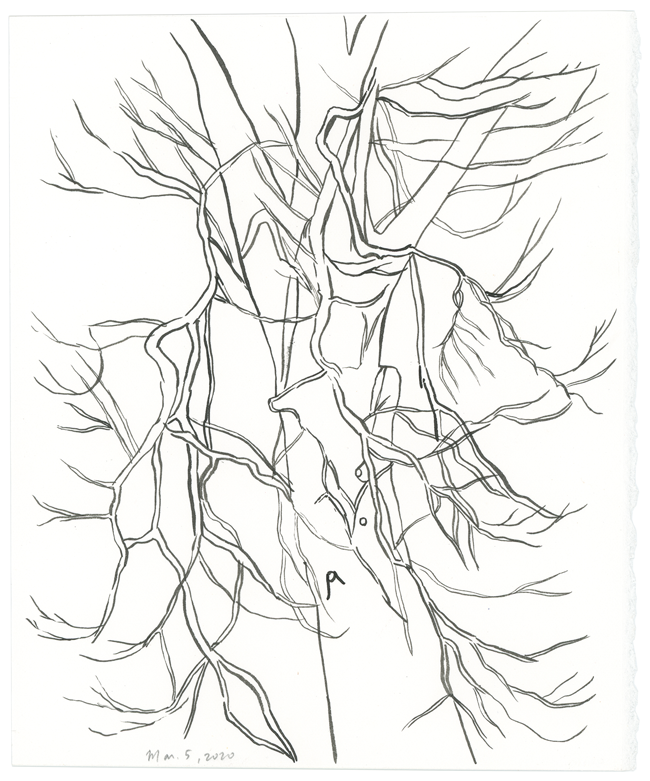 March 5, 2020 ink on found paper 7 7/8 x 8 1/2 in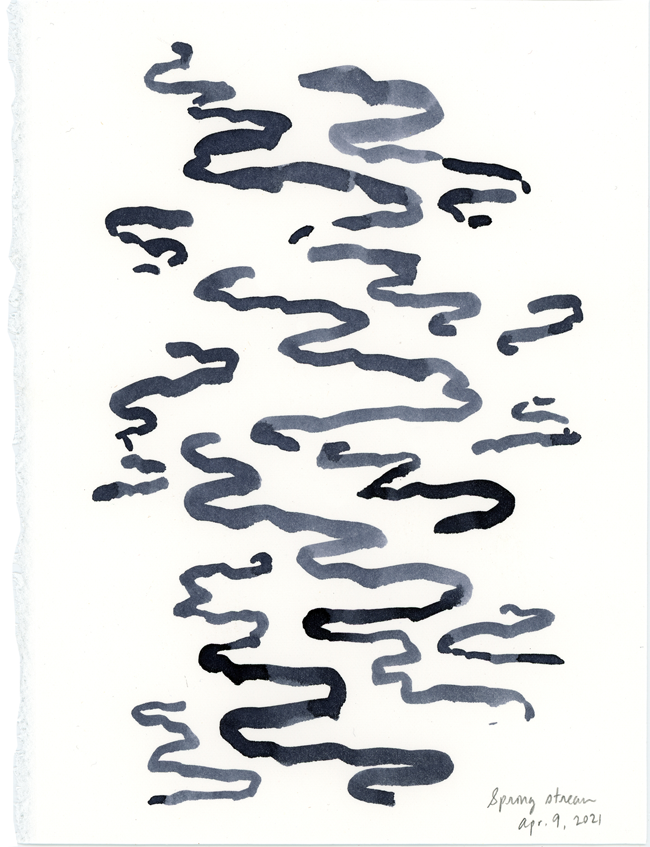 Spring stream, April 9, 2021 Ink on Fabriano paper 8 x 6 in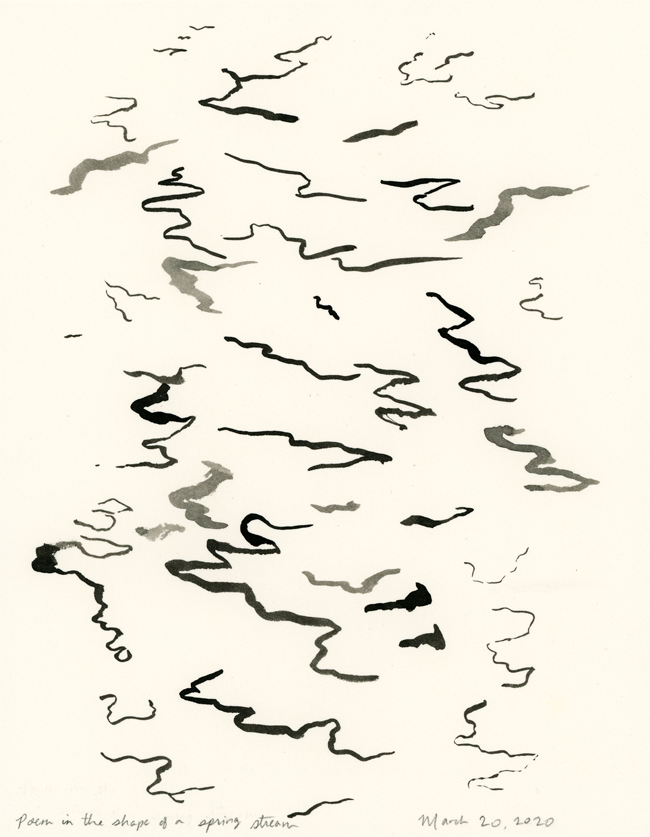 Poem in the shape of a spring stream, March 20, 2020 Ink on Arches paper 7 7/8 x 6 1/8 in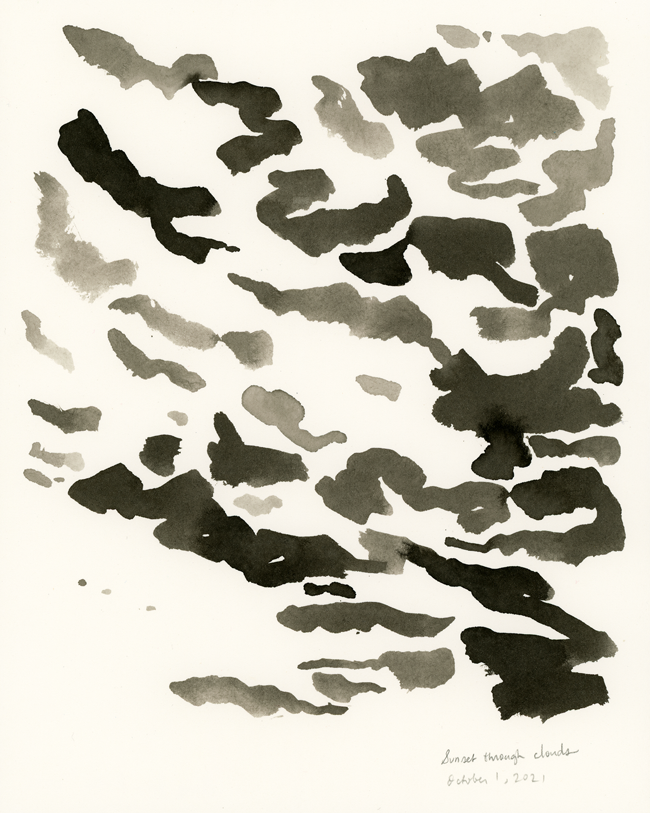 Sunset through clouds, October 1, 2021 Ink on Arches paper 10 x 8 in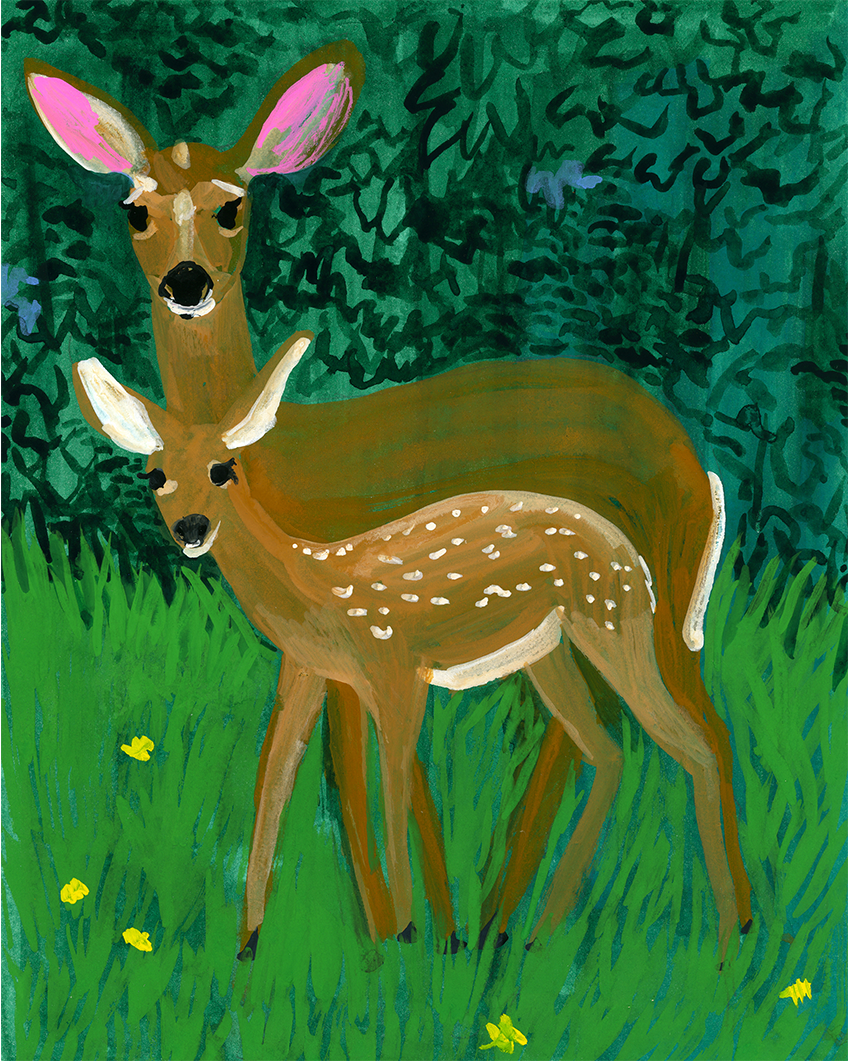 White-tailed Deer, 2020 Gouache on Arches paper 10 x 8 in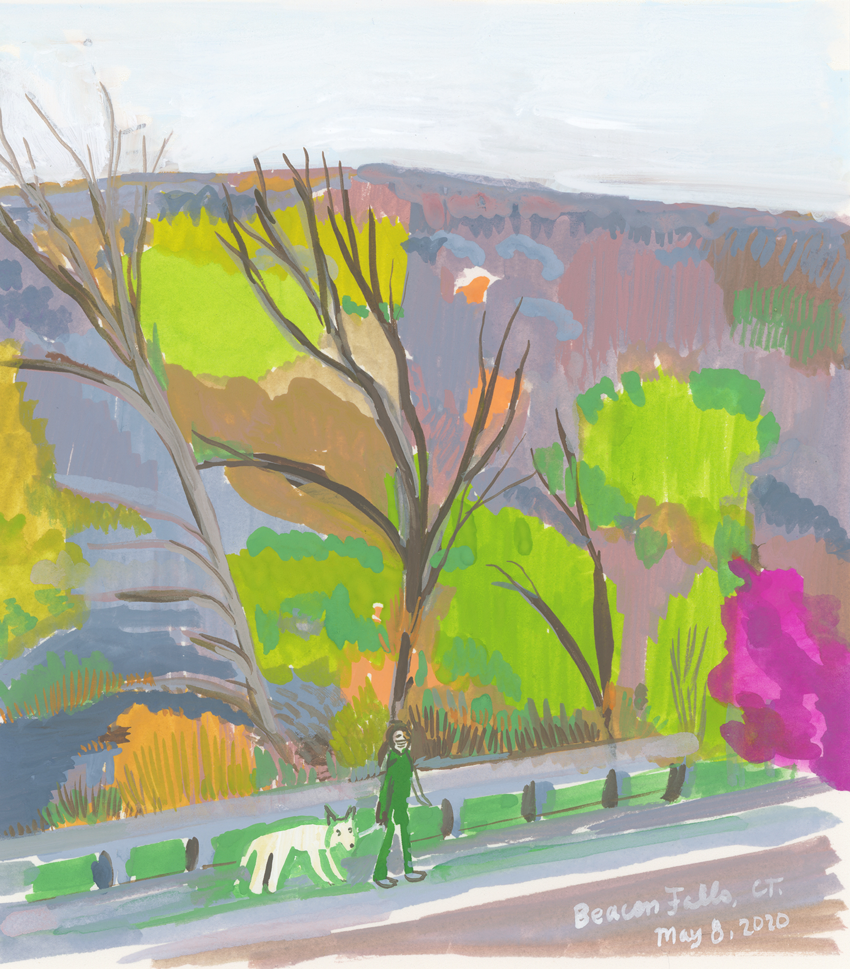 Beacon Falls, CT, May 8, 2020 Gouache on Arches paper 7 x 6 in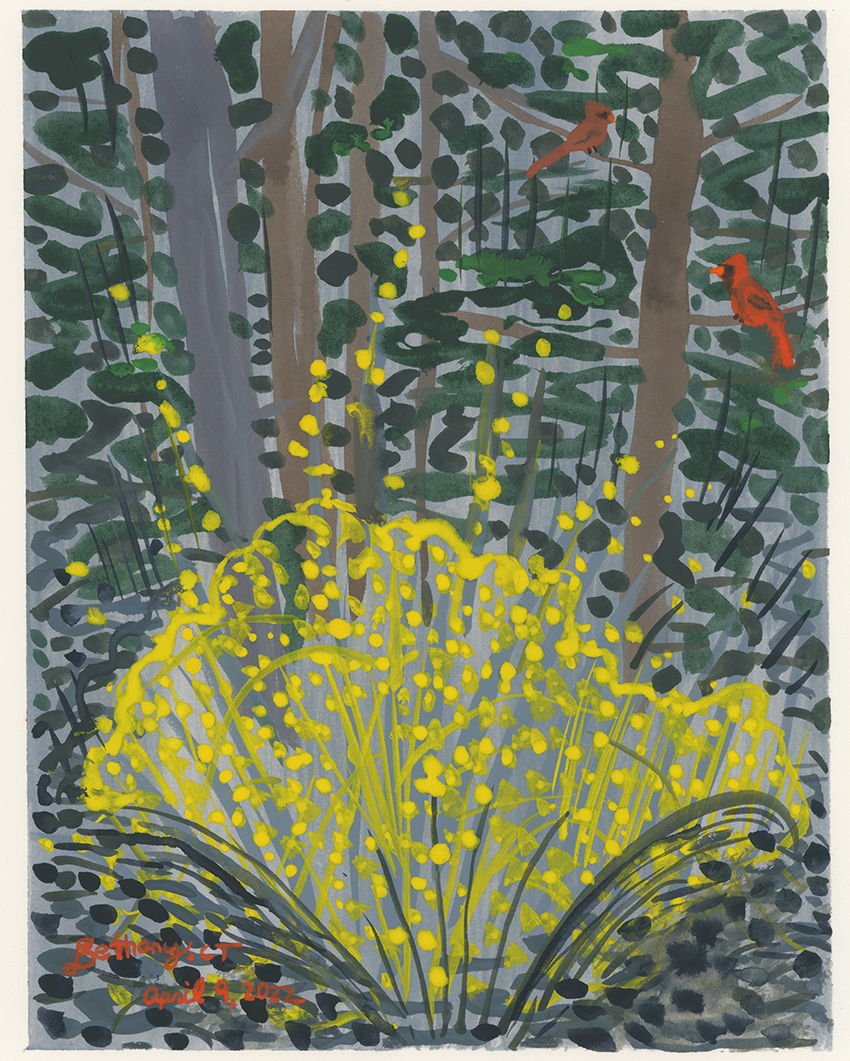 Bethany, CT April 9, 2022 Gouache on Arches paper 9 x 7 in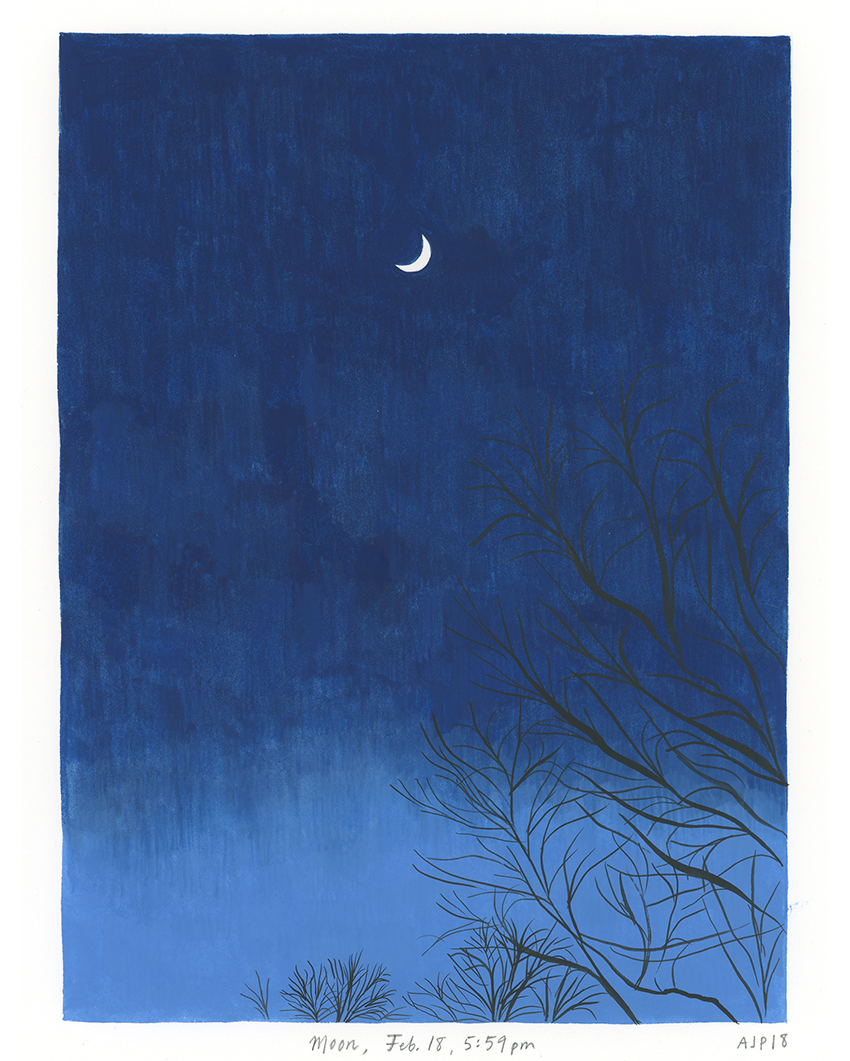 Moon, Feb. 18, 5:59, 2018 Gouache on Fabriano paper 11 x 8 in
Forget me not, 2016 Gouache on Arches paper  9 x 7 in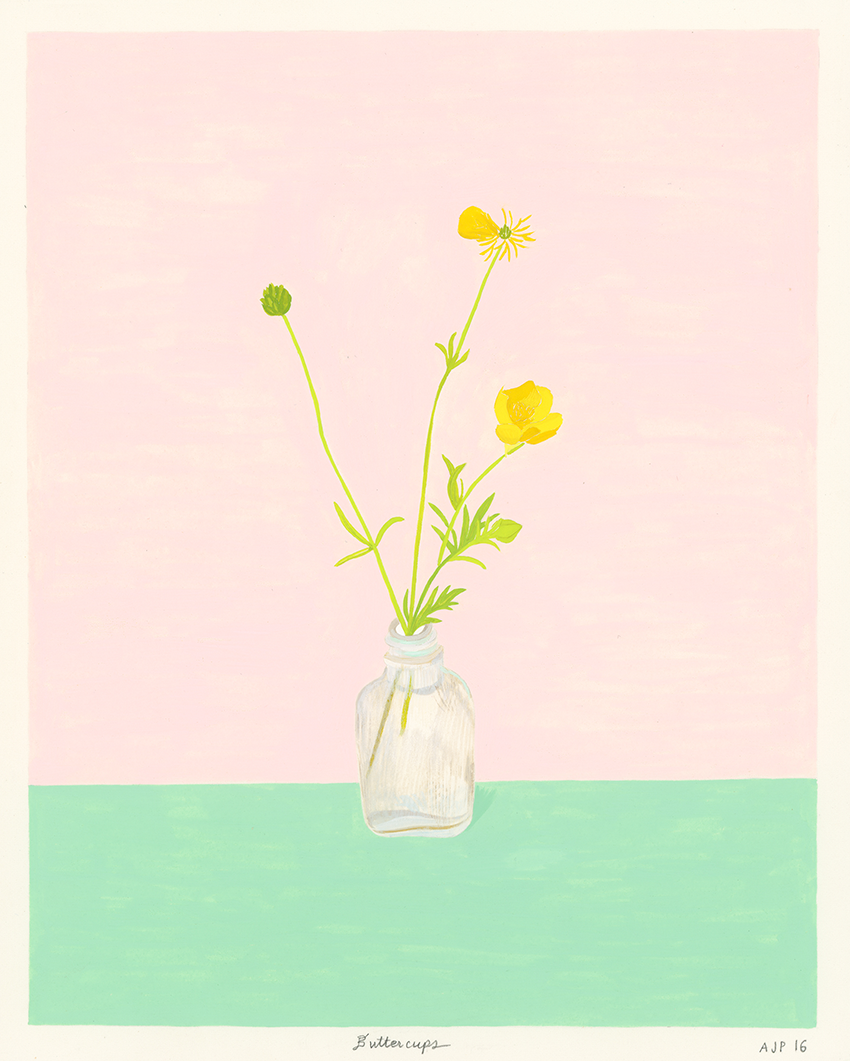 Buttercups, 2016 Gouache on paper 9 x 7 in
Winter Bouquet, 2018 Gouache on Arches paper 10 x 12 in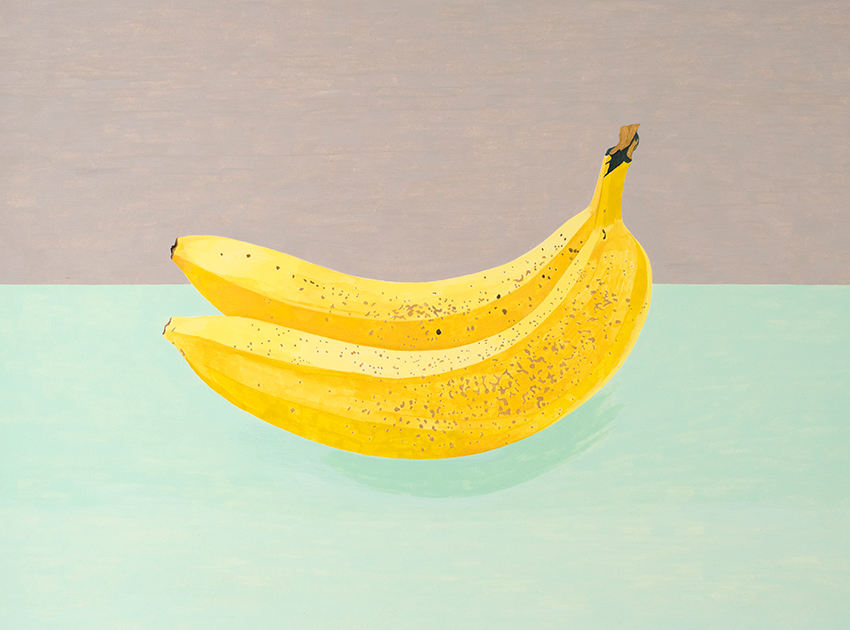 Two Bananas, 2016 Gouache on Arches paper 15 x 19 in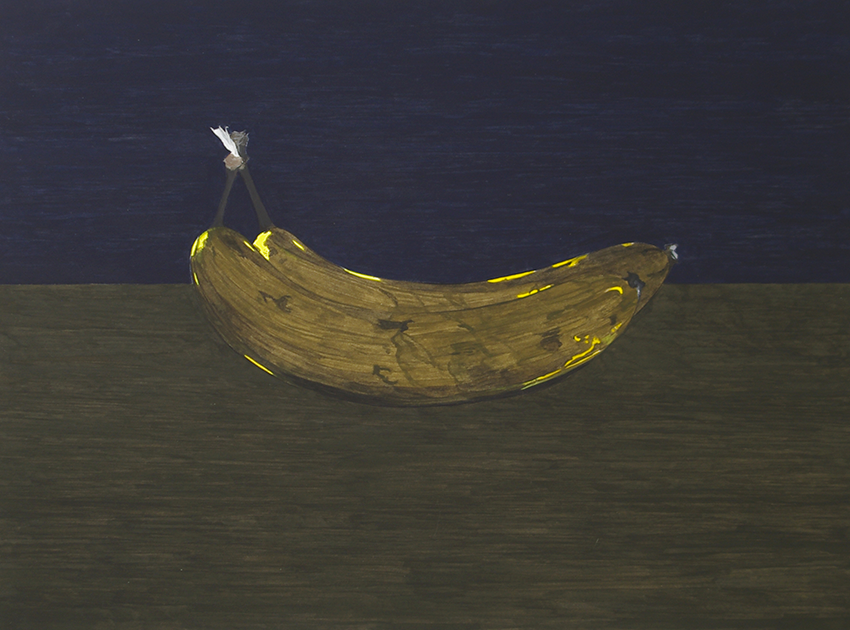 Gone Bananas, 2022 Gouache on Arches paper 15 x 19 in
March 4, 2020 ink on found paper 8 x 6 in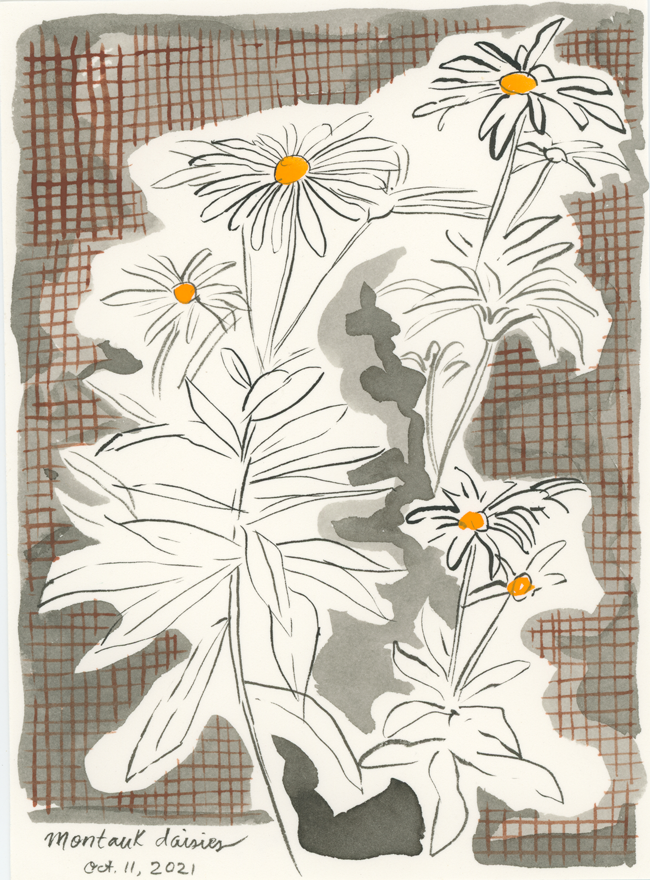 Montauk daisies, Oct. 11, 2021 Gouache and ink on Arches paper 7 x 5 in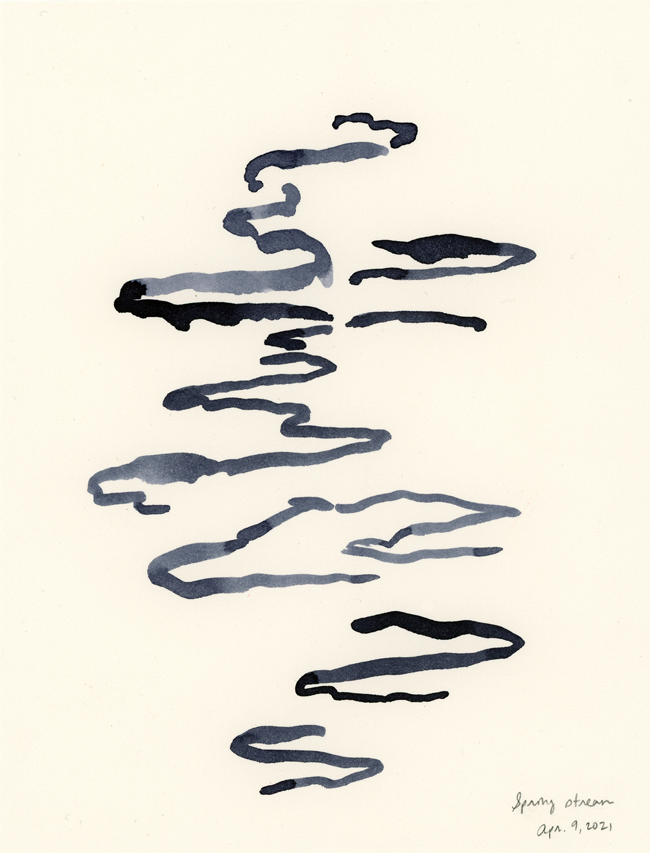 Spring stream, April 9, 2021 Ink on Arches paper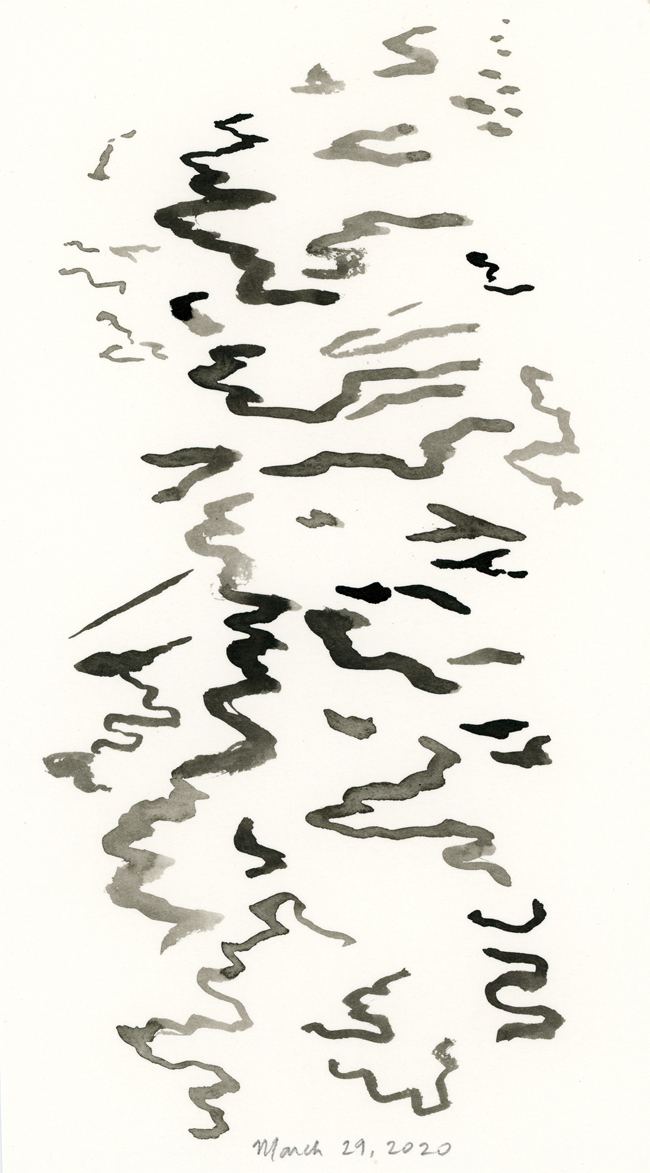 Poem in the shape of a spring stream, March 29, 2020 Ink on watercolor paper 7 1/2 x 4 1/8 in