Kirstin Lamb
Floral Remix
I make labor-intensive images of labor-intensive textiles and wallpapers.
These paintings encompass hybrid embroidery, cross stitch, collage and digital mark-making. I make a layered digital collage, using current and past paintings and patterns, and I cut and chop them, drawing in new marks and scribbles. I feel these are the most expressive and abstract of the work I have made, allowing me to play with calligraphic mark-making and humor.
Though these paintings read as expressive, much of the work in making them is deeply tactical and repetitive. The paintings are made from an earlier body of work, my embroidery paintings, which were made using a printed gridded pattern. To make those works, some of which are included in this show, I paint images that are not already patterns by generating a digitized grid from which I paint each stitch by hand with acrylic and acrylic gouache on a wet media acetate. This is a simple process of re-painting a textile or pattern, sometimes an invented image-generated textile, sometimes an actual knit or textile pattern (cross stitch or embroidery). The brush creates a one-to-one relationship of mark to stitch; each mark stands in for a move of the needle.
For this new work, the embroidery paintings were photographed or scanned and used as a base for compositions, combined and remixed with vintage wallpapers, cross stitch patterns and digital drawings. Remix itself is defined as using a machine or computer to change, improve or recombine different parts of a musical composition or orchestration. I use remix in my visual context to signify the reuse of feminine lapcraft, decorative design and digital traces of my own past work. This digital collage leaves the computer when it is printed on canvas and I proceeded to paint the surface almost to completion, leaving a bit of the digital marks available on the surface. I am interested in reasserting the authorship of my paintings through the labor and failure of my hand over the perfection of the digital object.
Parts of this series are generated from images of French wall decoration made following the discovery of the ruins of Pompeii and Herculaneum in the late 1700s. These works were deliberately cropped from texts discussing the shift in pattern before and after the discovery of those ruins, and the elaborate color and design shifts that occurred after the unearthing of the frescos. I am interested in the power engendered by pointing back to antiquity in times of struggle or trouble, and what that means in decoration. I am curious about the relationship of later popular decoration to this earlier format, and find that I mine a large range of textiles and wallpapers for my work, partially as I seek to tie together disparate influences in my visual history, to sort them through. The re-presenting of many of the motifs hopefully begins to suggest the darker uses of antiquity and decoration more broadly as a stand in for beauty and power.
KIRSTIN E. LAMB
Providence, RI and Pawtucket, RI / 617-270-8357
[email protected] / http://kirstinlamb.squarespace.com
Kirstin is a painter living in Providence, Rhode Island and working in Pawtucket, Rhode Island.  Kirstin studied painting at the Rhode Island School of Design, graduating with an MFA in 2005, and she received her AB in Visual Art and Literatures in English from Brown University in 2001.  Kirstin's new work, Floral Remix, is to be shown this spring at Jenifer Terzian Gallery in Litchfield, CT, opening at the end of May. Kirstin's painting has been shown in venues across the country, recently showing at Cade Tompkins Projects in Providence, RI, the Spring Break Art Fair in NY, Periphery Space at Paper Nautilus in Providence, RI, the Wassaic Project in Amenia, NY, the Fruitlands Museum in Harvard, MA and Providence College Galleries in Providence, RI, among others.  She has attended residencies at the Atlantic Center for the Arts, Vermont Studio Center, Bunker Projects, the Wassaic Project, the Kimmel Harding Nelson Center for the Arts, The Ora Lerman Trust Soaring Gardens Artist Residency, and the Sam and Adele Golden Foundation.  Kirstin has taught painting and drawing at a range of New England colleges and is currently working at Clark University in Worcester, MA, teaching painting and drawing courses on the undergraduate level.  Her work is in the collections of Fidelity Investments, Boston, MA, the Fruitlands Museum, Harvard, MA, and Providence College, Providence, RI, among others.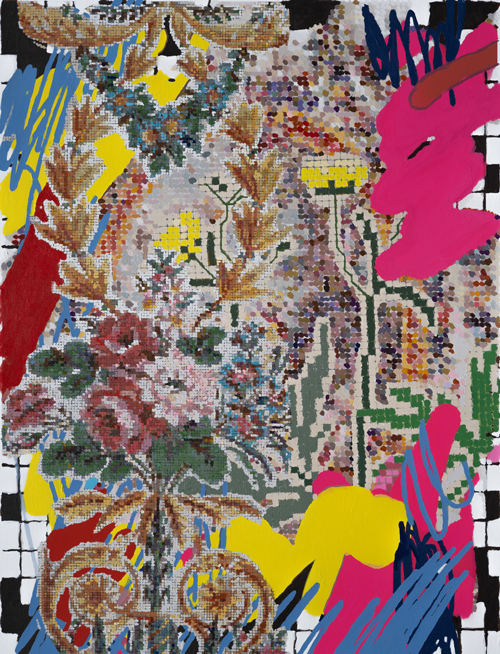 French Wallpaper Scribble Remix, 2022 acrylic and acrylic gouache on printed canvas 30 x 22 in.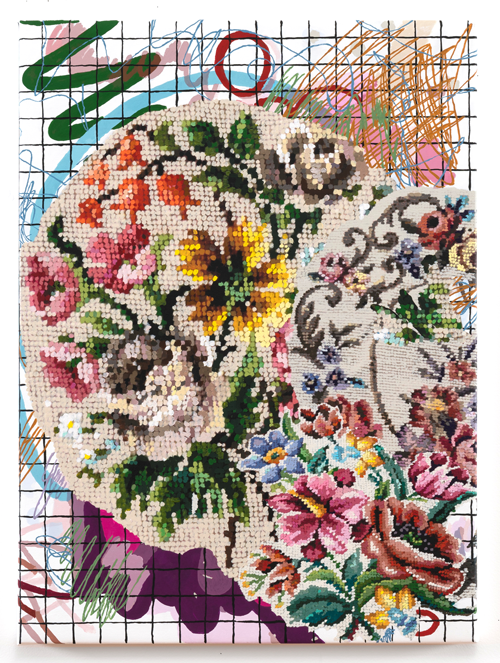 Embroidered Remix with Scribbles, 2021 Acrylic and Acrylic Gouache on Canvas with Printed Underpainting 30 x 22 in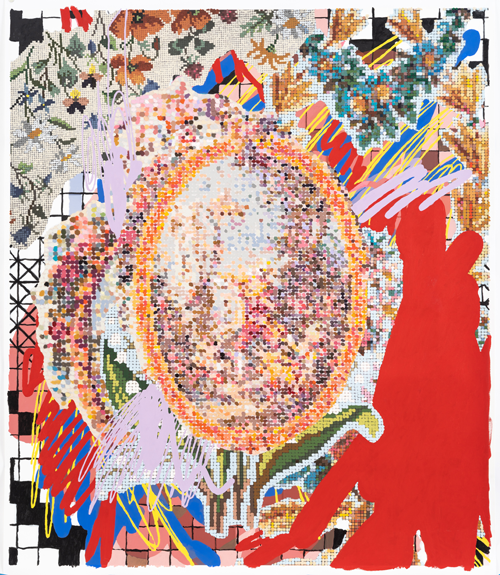 Remix with Lozenge, Floral Cross Stitch and Doodles, 2021 Acrylic and acrylic gouache on printed canvas mounted on panel 50 x 40 x 1 in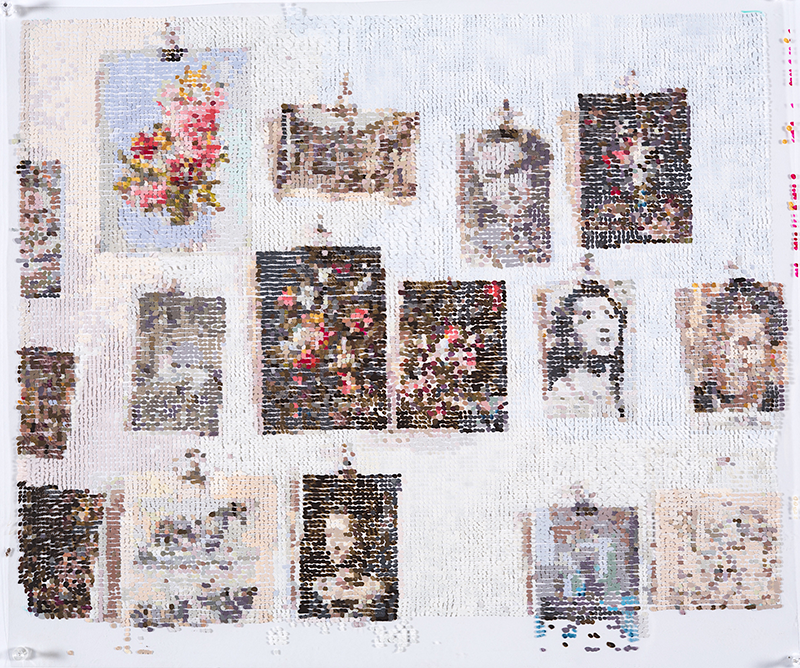 After Studio Wall with Clips, 2018 Acrylic and gouache on duralar on panel 20 x 24 i
After Studio Wall with Moose,  2018 Acrylic and gouache on duralar on panel 20 x 20 in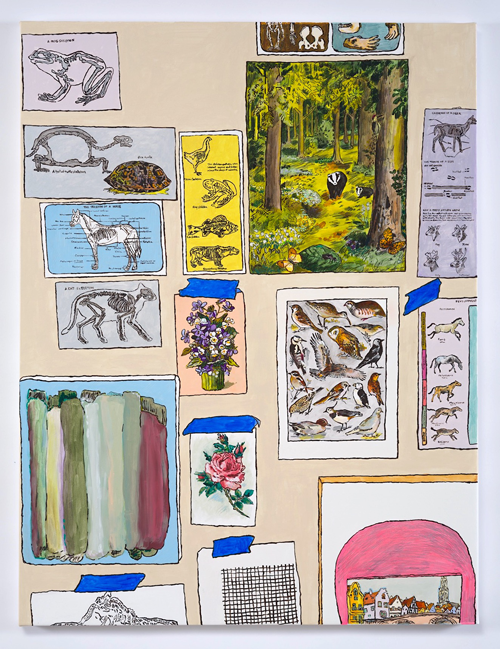 Studio Wall with Forest, Charts, Skeletons, Florals, and Birds,  2020 acrylic on canvas 50 x 38 in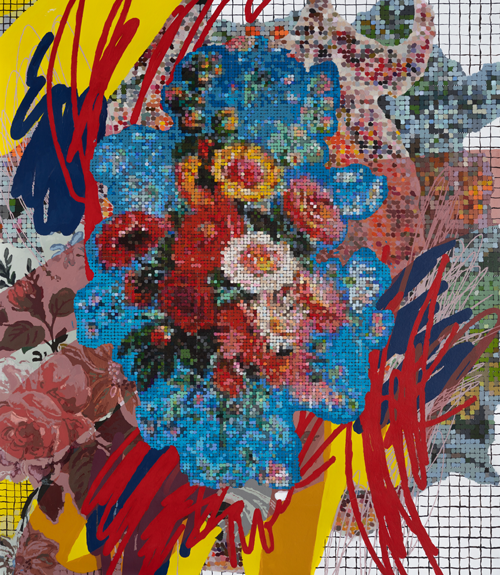 After French Wallpaper with Red Scribbles, 2022 Acrylic and acrylic gouache on printed canvas mounted on panel 50 x 38 in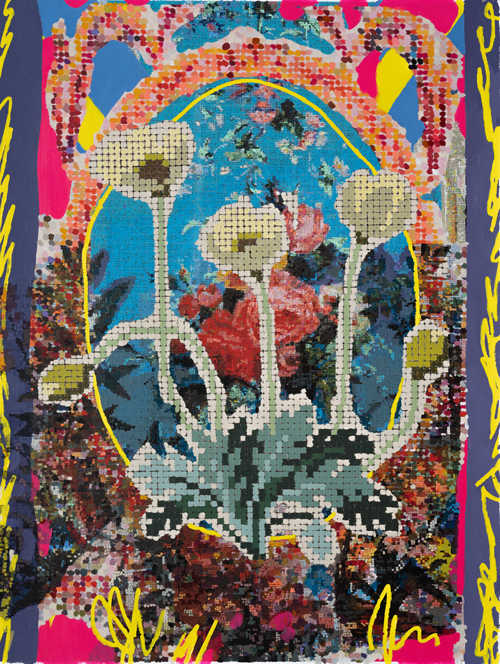 Iceland Poppies Purple, Yellow and Pink Scribbles Remix,  2022 Acrylic and Acrylic Gouache on Canvas with Printed Underpainting 30 x 22 in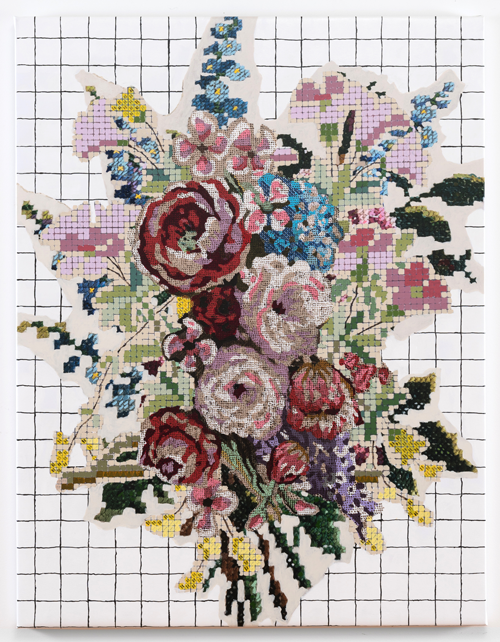 Floral Remix: Lapcraft,  2021 Acrylic and Acrylic Gouache on Canvas with Printed Underpainting 50 x 38 in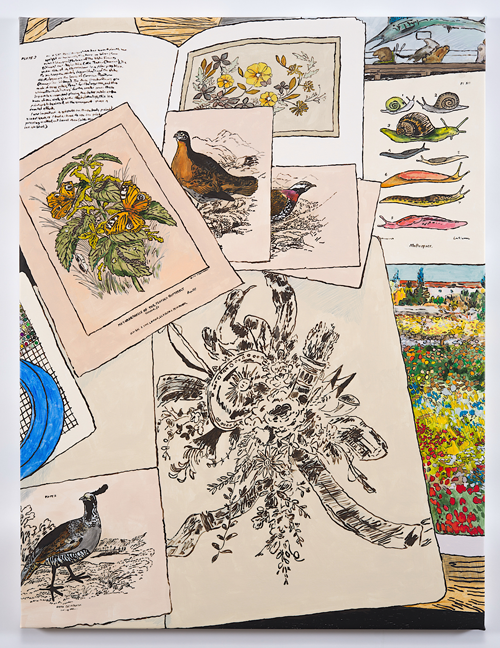 Studio Floor with Butterflies, Snails, Birds, Flowers, Drawing and Van Gogh,  2020 acrylic on canvas 50 x 38 in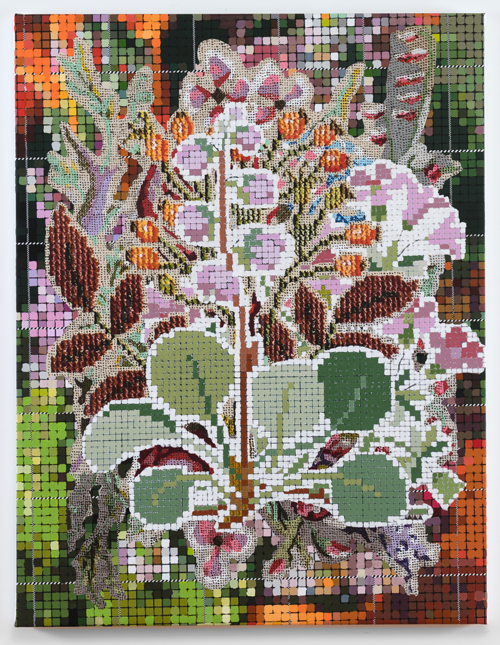 Floral Remix: Sonic MilleFleur,  2021 Acrylic and Acrylic Gouache on Canvas with Printed Underpainting 50 x 38 in